Originally Published on April 9, 2016 on my LinkedIn Profile, but still relevant today!
LinkedIn keeps innovating, changing things around and introducing new features. One of those new features is the "Sales Navigator", a premium tool designed to help paying members get more leads faster and easier.
As part of this tool, LinkedIn introduced the "Social Selling Index" score, or SSI. You can actually get this score for free here (click the "Get your Score Free" yellow button).
The SSI measures "how effective you are at establishing your professional brand, finding the right people, engaging with insights, and building relationships". That's how LinkedIn defines it. They also say it is updated daily.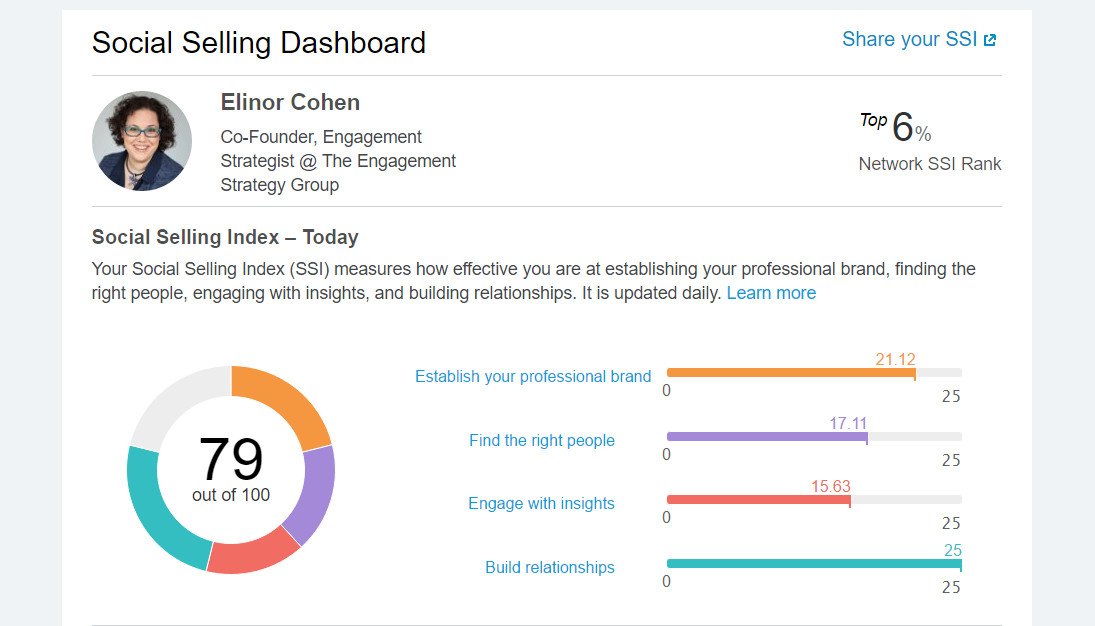 So I did a test and checked my own score… I got a whopping 79 (out of 100!) which means I am on the top 6% in my network (most my connections have an average score of 48) and I am way up higher than most of the peers in my own industry which, as per yesterday, seem to have a score of 20+ (say what?! It is the "Marketing & Advertising" industry we're talking about after all, and that just doesn't seem right). Anyway, 79/100 is a great number and according to LinkedIn it was even higher earlier this month….so what?!
It's a nifty little tool but it's not something I believe you should read too much into. Here's why:
First, they claim it is updated daily and it is based on parameters like publishing posts with "engaging content" (chances are my score will be higher tomorrow thanks to this post). If you start obsessing with it, you'll never do real work or networking!
Second, I am not sure it is really updated as they say it is… I checked my score over a week and it did not change much, despite me being too busy to post and share as usual… my score should have gone down according to LinkedIn, but it didn't.
Third, scores are out there in abundance (remember when the whole world was obsessed with klout scores?)…. Social selling is not really something you can measure because it is so fluid and intangible. The indexes change from niche to niche, from country to country and from network to network. If you are busy trying to improve some virtual "score" or "grade" on a specific channel, chances are you are focusing on artificially increasing your activity and neglecting your other channels.
So what do you do with this piece of information after all?
You check it… from time to time, but you don't fuss about it. You take note and you focus on organically enhancing and improving your network.
You focus on engaging with people rather than with some virtual numbers. This means you do not just add anyone to your networks to increase the score (more connections = higher score…), but rather you add quality and relevant connections. You do not just share anything you see, but you spend time and effort to curate engaging and relevant content.
In other words – forget the numbers. Just be yourself. Be human and focus on human connections.
Happy networking!